Intensity: CSA 2017 – Week #2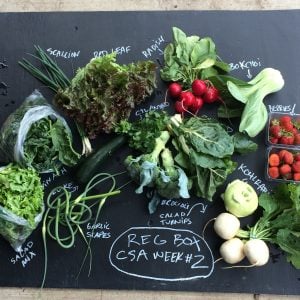 During certain moments of every farm season, you can suddenly find yourself stuck in intense mode. You know it's going to happen. You plan for it with staff. You prep your friends for your imminent dissapearing act. And then you wait…
It kind of reminds me of labor, the birthing kind.  As labor looms, you prepare and prepare until there is nothing left to do but wait for natural processes to unfold.
In most seasons, the intensity something in June. Just last week we were telling friends how ahead we felt, how calm, how ready.
Then it stopped raining.
Then it got hot.
Then it got really, really windy.
And so the intensity of farm labor has begun.
Mike has been working around the clock setting up irrigation runs in order to keep all of the beautiful vegetables we hope to give to you from dying or experiencing huge setbacks in yield from all the heat, dry, and wind.
Meanwhile, to help give space to Mike to accomplish these tasks, I have upped my field work time and shifted all office needs to the night, so that the loss of Mike's work to irrigation is felt as little as possible.  This is after I pick up the slack of all child-rearing duties related to evening time.
Together Mike and I have labored through 3 childbirths and 10 farm seasons. We are a good team. We try to slow down and breathe deeply when we can, and otherwise dig in hard to the roles we each have. I appreciate his drive and ability to pull long field hours on machines. He appreciates my ability to let go of the farm stress at the end of my work day and be there for the kids before returning to it again at night. Both of these roles are vitally important – to the functioning of both our farm and our family.
We have chosen this life. Sympathy is not why I am sharing.  It's more to share a snapshot of this moment of our farming life and season.
Life on a farm has a beautiful rhythm. It is predictable and unpredictable all at the same time.  We know the bare bones of each season will occur… winter will turn to spring and then summer. The days will get longer. The days will get hotter. There will be spells of too much and too little of rain. And certainly there will be spells of intense labor.
But each season has its own particular flow and rhythm that we have to adapt to each year. That adaptation is a challenge for sure, but also part of the allure of farming.  Part of our job is to move with and abide by natural occurences over which we have no control. Being driven by the natural environment around us is a rare gift in an occupation. It is both our greatest test and treasure.
And so as I work another late night post kid bedtime and Mike preps another irrigation run in case we don't get the predicted rain (update: we got just .1 inches on Monday night), so we progress through our seasonal farm labor.  Even at its most difficult, we wouldn't trade it for anything.
Thanks for your support of our family farm – and happy cooking!
Mike, Cassie, Zea, Edie, & Juna
aka the Noltnerwyss family
In the Box: 
Broccoli
Bok Choi
Cilantro
Kohlrabi
Garlic Scapes
Radish
Scallions
Salad Mix
Salad Turnip
Spinach
Strawberries 
EOs only: 
Arugula
Butterhead Lettuce
Kale, Green Curly
REGs only: 
Rainbow Swiss Chard
Red Leaf Head Lettuce
Weekly Recipes