CUSTOMIZABLE VEGETABLE SUBSCRIPTIONS
ALL Crossroads vegetable subscriptions are customizable.
Each Friday of the growing season, members receive an email detailing the contents of the upcoming vegetable box. We call this the default box.
If happy with the default, members don't have to do a thing. The default box will be delivered the following Wednesday.
For those members who want to change the contents of their boxes, they can! Don't like kale and want to swap it out for lettuce? You can. Members have until Sunday evening to swap out items in the default box for other items available at the farm.
The farm harvests accordingly during Monday and Tuesday. Boxes are packed and delivered on Wednesdays.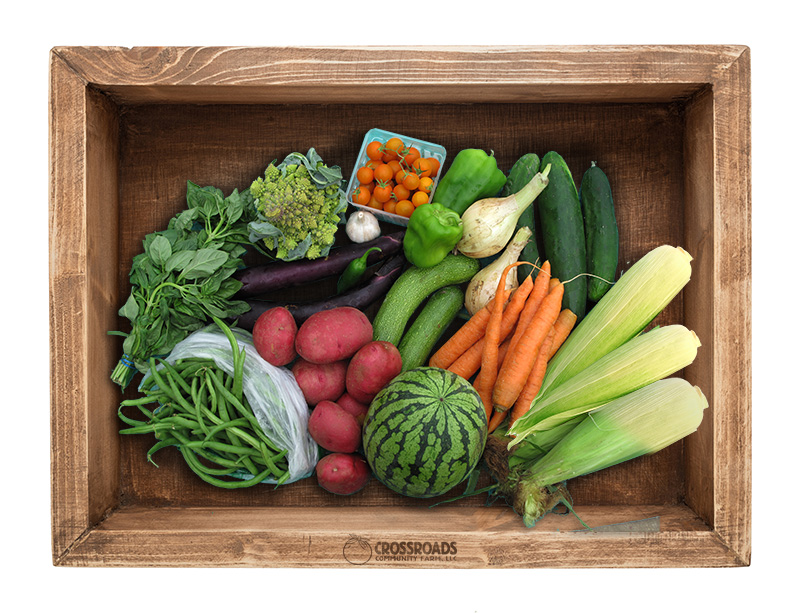 WHAT IS CSA?
CSA stands for Community Supported Agriculture.
It's a unique arrangement between farmers and eaters.
People join, and become members of a CSA farm. Members of a CSA purchase a share, or box, before the growing season begins.  In this way, members commit to the farm for the season and help cover the initial annual costs of the farm operation.
In return, members receive boxes of a farm's produce throughout the growing season, as well as satisfaction gained from reconnecting to the land and being more knowledgeable of local food production.
Along with farm-fresh food, CSA shares include:
a newsletter that accompanies each delivery with notes about farm activities, descriptions of delivery contents, cooking tips, and recipes.
opportunities for the farm's members and families to visit the farm and participate in farm events.
a diversity of share options including extended season shares, customizable shares, and various share sizes.
special funds and payment plans to accommodate households on a tight budget.
knowledge that the farmer uses sustainable and organic methods to reduce the impact of agriculture on the environment.
What Growing food sustainably means to us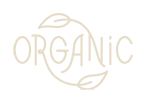 It means producing food organically –  without the use of synthetic pesticides or fertilizers.

It means growing food in a way that nurtures and sustains the soil.
We build our soil; we don't deplete it.

It means building local economies and local relationships.

It means providing ourselves and our employees safe, fun work environments and living wages.
How are we doing meeting this mission?  Since 2009, Crossroads Community Farm has been certified organic.  Soil tests show we have successfully improved the quality of our soil.  Each year, with the help of employees,  babysitters, and worker shares, we feed over 350 families through our Summer CSA and Fall CSA shares. We host a strawberry pick, corn boil, and harvest party for our CSA members.  We sell our vegetables at the Westside Community Market and also sell to various local restaurants.  We also donate  food to local pantries.  And guess what? We never drive over 20 miles to deliver our food anywhere! Local, organic, sustainable. It's what we do.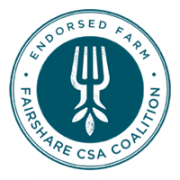 FAIRSHARE CSA COALITION
From farm to table and back to farm, being a Fairshare CSA Endorsed Farm means we're working to bridge the gap between farmers and folks who are longing for a deeper connection to food and community. From providing access for fresh, seasonal food to educating on production and consumption in our community, we are always interested in expanding the reach of our farm.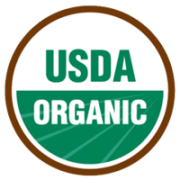 USDA ORGANIC CERTIFIED
Since 2009, Crossroads Community Farm has been USDA Certified Organic through the Midwest Organic Services Association (MOSA). Since going organic, we continually test our soil and the results show that we have successfully improved the quality of our soil.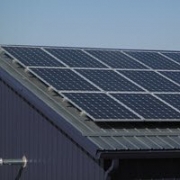 SOLAR POWERED
We have 54 panels on the barn and another 24 on our home. These two systems provide enough power to slash our electrical bills. The system offsets 30,000 pounds of carbon dioxide annually, the equivalent of emissions from burning 33 barrels of oil per year.