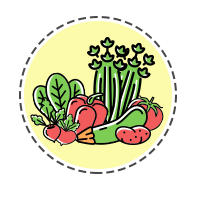 SUMMER SHARE
CUSTOMIZABLE CSA SHARES
We grow more than 60 types of vegetables, plus melons and strawberries! You will receive 10-13 items in each box, and will have the ability  to customize your box. Pictured and playing below are 3 different share boxes from different times of the season.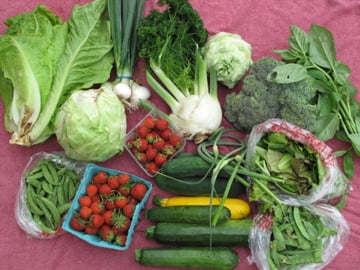 LATE JUNE BOX
1 head romaine lettuce
1-1/2 quarts strawberries
1 head broccoli
1 bunch basil
4 zucchini
1/2 pound sugar snap peas
1/4 pound snow peas
1 green cabbage
1 kohlrabi
1 fennel
1 bunch pearl onions
1/2 # salad mix
2 cucumbers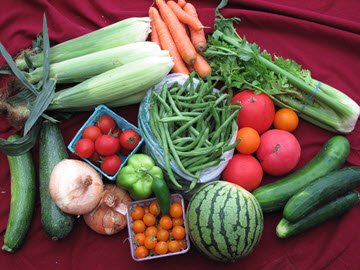 MID-AUGUST BOX
6 ears sweet corn
1# carrots
1 head celery
3 zucchini
1 watermelon
1 pint sungold tomatoes
1 pint cherry tomatoes
2 cippollini onions
3 cucumbers
2 zucchinis
1 jalapeno
1 green pepper
2# heirloom tomatoes
1.5# green beans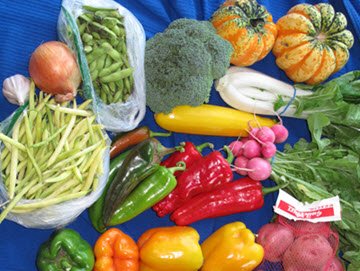 EARLY OCTOBER BOX
2 festival squash
3 sweet carmen peppers
2 # red potatoes
1 romaine lettuce
1 jalapeno
1# edamame
1 yellow onion
4 poblano peppers
1 garlic bulb; 4 bell peppers
1.5 # paste tomatoes
1# slicing tomatoes
1 bok choi
1 head broccoli
1 bunch radish
1 gold zucchini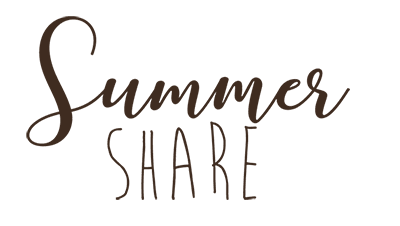 As a summer season member, you will get to share in the full bounty of the fields. From greens and strawberries in the early season, to juicy heirlooms in the late summer, to butternut squash in the fall, we promise to fill your plates with interesting and delicious vegetables.
All of our shares are customizable. Each week we will suggest a share with about 10 – 13 items. Using our mobile friendly software, you will be able to view this share and swap out any items you don't love for ones you do. Zucchini not your favorite? Swap out for more carrots. Don't want kale? Customize your share to have head lettuce instead.
We grow over 60 different vegetables, as well as strawberries and melons. The majority of shares are full of staple crops you'll recognize, like carrots, broccoli, lettuce, onions, tomatoes, and potatoes.  But we also grow many other kinds of vegetables that reflect the diversity of what can be grown in Wisconsin. You'll get to learn and hopefully love some new veggies – like fennel, kohlrabi, and kale to name a few.
Weekly educational tips from our veggie share syllabus will help you learn about the items in your box and give you storage tips and cooking ideas. On our website, we have a recipe search index which provides access to all archived recipes. And our weekly post on the Field Dispatches blog will give you a feel for what life is like on the farm.
We have two different share options for our summer shares.
REGULAR WEEKLY SHARE (20 weeks)
EVERYOTHER WEEK SHARE (10 boxes)
PICK-UP INFORMATION
Click here for our 2022 listing of Madison-area pick-up sites and days for our Summer &  Fall shares. Pick-up day is Wednesday afternoon at your specific location, but if you are planning to be out of town or know you can't make your pick-up, you can pre-plan to come get your box directly at the farm.
CROPS WE GROW
Below is a list of the fruits and vegetables we grow on the farm. We have a Veggie Guide about our vegetables for you to more about what you are eating! We also have a renowned Seasonal Recipe Archive to help you eat through your box.
Arugula
Basil
Basil, Thai
Beans, Green
Beets (red)
Bok Choi
Broccoli
Brussel Sprouts
Cabbage (red, green, & chinese)
Carrots
Cantaloupe
Cauliflower
Celeriac
Celery
Chard
Cilantro
Corn (sweet)
Cucumbers
Dill
Eggplant (globe & japanese)
Fennel
Garlic
Kale (lacinato, green & russian)
Kohlrabi
Leeks
Lettuce (6+ varieties)
Onions (yellow, red; & pearl)
Parsley (Italian)
Parsnip
Peas (snow & sugar Snap)
Peppers (red, green, purple, poblano & jalapeño)
Potatoes (red, yellow, russet, blue, & fingerling)
Radishes (spring and storage)
Salad Mix
Scallions
Shiso
Spinach
Strawberries
Sweet Potatoes
Tatsoi
Tomatoes (red cherry, sungolds, heirlooms, paste, &  slicing)
Watermelon
Winter Squash (butternut, delicata, acorn, spaghetti & festival)
Zucchini (gold and green)