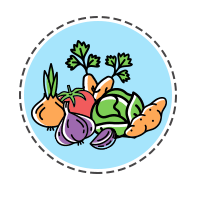 FALL SHARE
CUSTOMIZABLE VEGGIE SHARES
Keep eating local veggies through December! Our customizable shares include late season vegetables and storage crops. Here's some photos (but don't worry, you won't get this much at once!)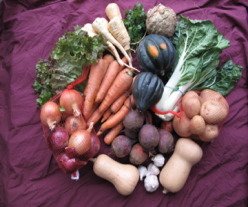 Fall Veggies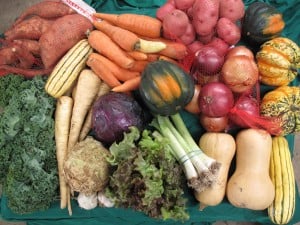 green kale
butternut squash
festival squash
acorn squash
delicata squash
red cabbage
celeriac
sweet potatoes
parsnips
leeks
carrots
onions
carrots
red potatoes
garlic
red lettuce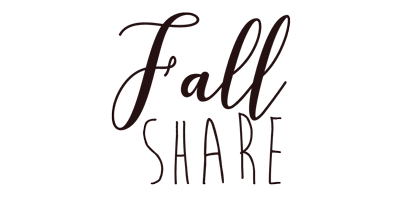 Eating locally produced, sustainably produced vegetables in a climate like Wisconsin's can be a challenge. Thankfully there are many yummy, healthy vegetables that can be stored in the colder months, as well as a variety of greens we can produce in our hoop house even after it has become cold outside. Through a fall share, you can keep local vegetables on your table through December.
What comes in a box? Fall shares will include a mixture of some greens, like spinach, bok choi and lettuce, and storage-able items including: carrots, Brussels sprouts, potatoes, winter squash, beets, sweet potatoes, cabbage, onions, garlic,  and celeriac. Weekly newsletters will give you a taste of our farm lifestyle. We'll also help you learn about the items in your box and give you cooking ideas. On our website, we have a recipe search index which provides access to all archived recipes.
Just like our summer share, we have two different share options for our fall shares.
PICK-UP INFORMATION
Click here for our 2023 listing of Madison-area pick-up sites and days. Please note, Attic Angel and Mt. Horeb sites are not available for winter. Pick-up day is Wednesday afternoon at your specific location, but if you are planning to be out of town or know you can't make your pick-up, you can pre-plan to come get your box directly at the farm.
CROPS WE GROW
Below is a list of vegetables we grow for the winter share. We have a Veggie Guide about our vegetables for you to more about what you are eating! We also have a renowned CSA Recipe Archive to help you eat through your box.
Arugula
Beets (red)
Bok Choi
Brussel Sprouts
Cabbage (red, green, & chinese)
Carrots
Celeriac
Garlic
Kale
Kohlrabi
Leeks
Lettuce
Onions
Potatoes (red, yukon, kennebec, & pontiac)
Radishes
Sweet Potatoes
Tatsoi
Winter Squash (butternut, delicata, acorn, & festival)