Preseason Playbook #4: Stock Your Pantry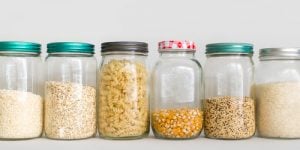 Our final preseason installment is a short, sweet one taken from an article entitled, Getting Hooked on Cooking with CSA by Katherince Deumling (author of Cook With What You Have).
A CSA share offers a plethora of produce every week and with it varieties we may have never seen before, let alone cooked—a delight and a bit of a challenge, for sure.
Fresh, delicious vegetables chosen for me week after week is my idea of heaven. It hasn't always been but I get more hooked every year. I'm hooked on the deliciousness, on not having to make any decisions about what vegetables to purchase, and on the creativity it inspires.
So, how does one get hooked?
Stock your Pantry, Two Ways:
Shop mostly to restock rather than for specific dishes. You'll spend less time (and money) running to the store for last minute items and can instead spend your time cooking, eating, and creatively using what you already have.  This is a basic list but you certainly don't need everything listed to cook many dishes. And, your pantry will reflect your particular taste. This is just a loose guide.
Purchased Goods for Pantry, Fridge and Freezer:
Lentils; French green, red, brown
Beans: black, pinto, white, chickpeas
Grains: brown and white rice, barley, farro, cornmeal/polenta, quinoa, pasta, couscous, bulgur
Seeds & nuts: sunflower, pumpkin, hazelnuts, walnuts, peanuts, almonds, etc.
Spices: cumin, coriander, mustard seeds, dried chilies, turmeric, caraway, paprika, cardamom
Herbs: thyme, oregano
Vinegars: cider, rice and red wine
Oils: olive, sunflower, coconut, sesame
Hot sauce, soy sauce, fish sauce
Dairy products
Eggs
Lemons and limes
Meat and fish in freezer: sausages, bacon, chicken, etc.
Semi-prepared Items:
When you have a little spare time you can add semi-prepared items to your fridge/ pantry that will make life much easier and tastier when you don't have those extra few minutes to get a meal on the table.
Make a jar of vinaigrette and keep it in the fridge. Dress lettuces and greens as well as roasted vegetables or plain chickpeas/beans with the same vinaigrette, adding some chopped herbs and toasted seeds. Be creative!
Cook a good quantity of beans. Put beans out to soak before you go to work in the morning. Cook them that evening while you're in the kitchen cooking something else for dinner anyway and have them ready for the next day or freeze half.
Cook twice as much rice, barley or farro as you need for any given meal and freeze half of it to make fried rice, rice and beans or a soup the following week on a particularly busy night when you need the head start.
Toast a cup of sunflower or pumpkin seeds and keep in a jar. Your salads will be better for them; your soups will have added crunch; your snacks will be cheaper and more nutritious!
Use a whole bunch of parsley or cilantro to make a quick, savory sauce with garlic, olive oil, lemon juice or vinegar. Stir in some thick yogurt for a creamy version. Having a flavorful component like this on hand means a plain bowl of rice or beans or a fried egg turns into a meal in no time.
Make chicken or any other meat, fish or vegetable stock and freeze.