COVID-19 & the Farm: FAQs and Updates
To our 2020 veggie share members and folks considering joining:
May you be well.
We wanted to write and assure each of you that our veggie share program is still happening this season! People need to eat, and we plan to feed you.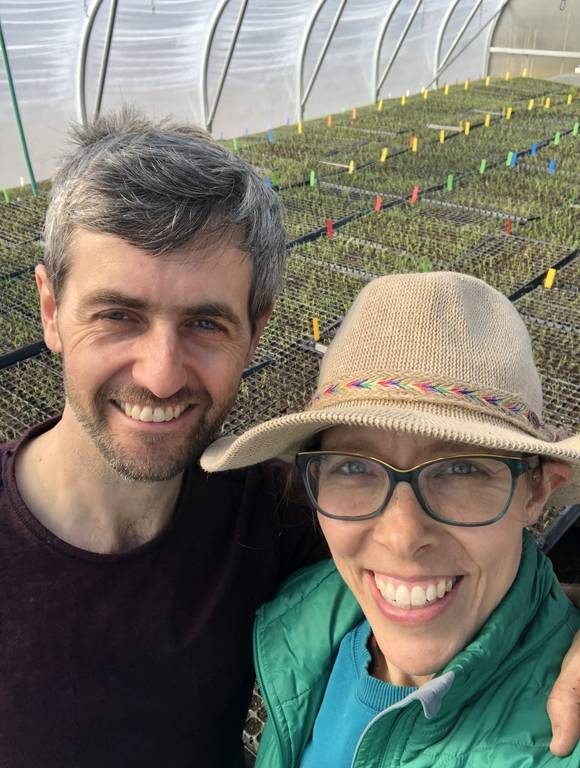 Mike and I have been busy seeding in the greenhouse and getting equipment ready for the warmer times to come.
Here are answers to some of the questions & concerns you may have so far:
According to the CDC, food is not a vector of transmission. From the CDC: "Currently there is no evidence of food or food packaging being associated with transmission of COVID-19.  Unlike foodborne gastrointestinal (GI) viruses like norovirus and hepatitis A that often make people ill through contaminated food, SARS-CoV-2, which causes COVID-19, is a virus that causes respiratory illness. Foodborne exposure to this virus is not known to be a route of transmission."
Of course, human hands will still touch your food in order to harvest, wash, and pack it.  Food safety is already a huge part of what we do. We will continue our practices (frequent hand-washing and routine sanitizing), as well as keep apprised of any new food safety protocols we may need to adopt as we learn more about the virus.
Our veggie shares begin in mid-June. We don't know how shut down everything will be at that point, and so at this time we aren't sure how disrupted getting food to you might be by then.
With a ton of unknowns, we are still strategizing:
Workers will begin to join us on the farm in mid to late April. We are asking each of them to limit their contact with others now in order to keep themselves healthy for the work ahead.
We are trying to figure out what we can do to honor social distancing at drop sites and keep transmission vectors down – like single stacking boxes so no one else touches your box; getting rid of check sheets so no pens are shared, etc.
We are planning for the possibility that some of our members will be too vulnerable/high risk to pick up their food and might require it to be delivered in some way.
We are attending farmer conference calls with extension public health specialists and other farmers to discuss what our best practices should be as a community to keep you all healthy and fed.
We will work to develop back up distribution plans for workplace drop sites, should offices remain closed into June.
We will keep an open line of communication with you as we progress through this time.
Most importantly, know that your food is sprouting right now, and we're committed to getting it to you safely.
We are heartened by the knowledge that we can support our community through this time, with the necessary and nourishing service of responsibly grown food. 
In return, we are hopeful to stay viable as a business and stable employer through this crisis. But in order to do that, we really do need your help.
We hope you'll consider choosing Crossroads as your source for veggies and eggs, this June – October. Join our veggie share program here.
As always – but with heightened urgency – we want to ensure our food reaches the most vulnerable and at-risk members of our community. Low-income families, seniors, and those those who are living serious health concerns (HIV/AIDS, diabetes and cancer). If you are able, please contribute to the Partner Shares Fund when you join.
Word of mouth is our most powerful resource for connecting with like-minded folks who are interested in joining our mission and enjoying our food! Many people are worried about future access to food, and they are unaware of the veggie share/CSA model. Please share your knowledge about the opportunity to have a farm share. Now more than ever, eating locally makes sense!
QUESTIONS?
Don't hesitate to reach out to us at [email protected] with any additional questions, concerns or feedback.
May you stay well in body and mind.
Cheers,
Farmer Cassie & Farmer Mike