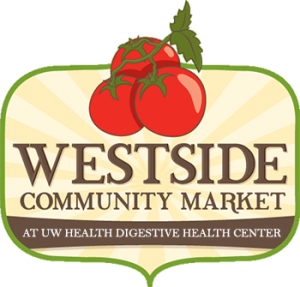 FARMERS MARKET & MARKET SHARE
WESTSIDE COMMUNITY MARKET
Come visit us at the Westside Community Market every Saturday during growing season to purchase produce directly from us. We also offer a Market Share that allows Farmer's Market customers the opportunity to join as a member of our farm community. Buy a Market Share and we'll hold your share card in our booth to deduct your purchases whenever you make purchases at our booth.
The 2018 farmer's market season runs from April 14th through November 3rd.   The markets runs from 7am – 12:30pm on Saturdays.
Please come visit us!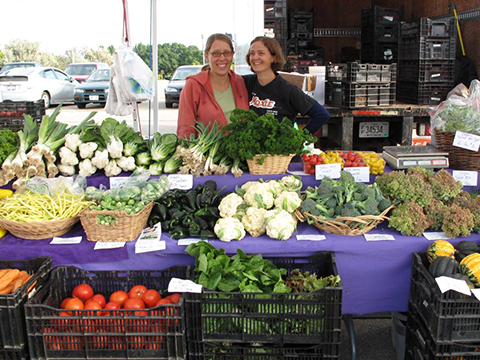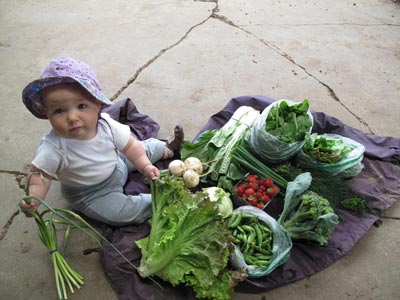 FARMERS MARKET & MARKET SHARE
In addition to CSA share options, each Saturday during the growing season you can find us at the Westside Community Market with an assortment of seasonal fruits and vegetables.
The Westside Community Market is the only vendor-run, producer-only market on Madison's west side. With more than 45 vendors, there are plenty of options including vegetables and fruits from our CSA, but also meats, cheese, flowers, plants, honey, baked goods, and artisan-crafted foods. Stop by to say hi and browse our weekly selection. Enjoy the easy parking!
Located in lots behind UW Digestive Health Center on University Row, Madison.
For more information on vendors or market updates, please visit the Westside Community Market website.
For an idea of what we might have at our booth each week, check out recent newsletters.
CROPS WE GROW
Below is a list of the fruits and vegetables we grow on the farm. We have a Veggie Guide about our vegetables for you to more about what you are eating! We also have a renowned CSA Recipe Archive to help you eat through your box.
Arugula
Basil
Beans (green & yellow)
Beets (red)
Bok Choi
Broccoli
Brussel Sprouts
Cabbage (red, green, & chinese)
Carrots
Cantaloupe
Celeriac
Celery
Chard
Cilantro
Corn (sweet)
Cucumbers
Dill
Eggplant (globe & japanese)
Fennel
Garlic
Kale (green & russian)
Kohlrabi
Leeks
Lettuce (4 varieties)
Onions (yellow, red; & pearl)
Parsley (Italian)
Parsnip
Peas (snow & sugar Snap)
Peppers (red, green, poblano & hot)
Potatoes (red, yukon, kennebec, & pontiac)
Radishes (spring and storage)
Rutabaga
Salad Mix
Scallions
Shallots
Spinach
Strawberries
Sweet Potatoes
Tatsoi
Tomatoes (red cherry, sungolds, heirlooms, paste, &  slicing)
Watermelon
Winter Squash (butternut, delicata, acorn, & festival)
Zucchini (gold and green)